News Release - Fentanyl Liquid Found in Hamilton
For Immediate release:
Update:
Posted: November 7th, 2016
Hamilton Police Vice and Drug Unit would like to remind the public that taking drugs that are not prescribed by a physician could be harmful if not fatal in any form which includes, patch, powder, tablet and liquid.
As a result of several inquiries, police would like to confirm that we did receive the results from Health Canada of the liquid fentanyl in July 2016. A member of the Vice and Drug Unit began to research Fentanyl in various forms which also included a proposal into the implementation of a Naloxone Overdose prevention. The media was then provided with information pertaining to the dangers of Fentanyl.
In October 2016, a member of the Vice and Drug Unit was sent on a conference to learn more about Fentanyl. At the conference the officer gained further knowledge of the illicit drug. Upon his return,
this prompted the officer to share his knowledge about the discovery of liquid Fentanyl.The officer wanted to ensure that sufficient information was available prior to a media release being sent out to our community.
Upon review of the course and recent drug seizures and in the interest of public safety - even though the incidents of the public handling liquid fentanyl is low, this information was released.
With the increasing prevalence of illicit drugs in more concentrated forms and the increasing danger from potential overdoses of a variety of drugs, ongoing investigative, safe handling and awareness training is crucial to keeping the community safe. Fentanyl in a liquid form is new to law enforcement agencies.
Hamilton Police is asking for the assistance of our community to come forward. Call police if you know or suspect any person in your area that may be manufacturing, trafficking or possessing any Fentanyl or other drugs.
Anyone with information who wish to remain anonymous are being asked to call Crime Stoppers at 1-800-222-8477 or submit your tips online at http://crimestoppershamilton.com
If you suspect someone is experiencing an overdose, call 911 immediately.
Fentanyl Liquid Found in Hamilton
Video Of Media Release By: Constable Steve Welton
In May of 2016, members of the Hamilton Police executed a search warrant in the city where various types of drugs were seized, including a small container with a liquid inside believed to be GHB.  Members of the Vice & Drug Unit were notified this week by Health Canada that the substance was in fact, a form of liquid fentanyl. In consultation with various Health Canada labs, and the Royal Canadian Mounted Police, it is believed that this is the only identified seizure of Fentanyl in a liquid state within Canada.
Fentanyl is a highly addictive drug that is estimated to be up to 100 times more potent than Morphine. Fentanyl does have legitimate medicinal uses as an anesthetic and is prescribed by health care professional for severe pain management.  It is regulated under the Food and Drugs Act as well as under Schedule 1 of the Controlled Drugs and Substances Act.
Fentanyl finds its way into the Canadian illicit market primarily in two ways; via domestic diversion of legal prescription products (eg. Fentanyl patches) and illegal importation/smuggling of illicit powder from international sources, notably China. Domestically, illicit fentanyl can be found in pure powder form, mixed with other illicit drugs such as heroin, or pressed into tablets mimicking the appearance of known pharmaceuticals such as OxyContin or Percocet tablets.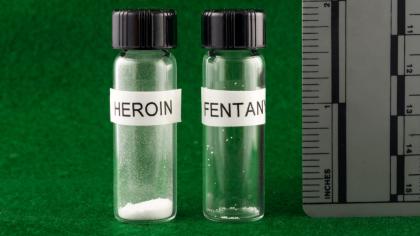 Fentanyl can be absorbed through the skin and accidental inhalation of airborne powder can also occur if not handled properly. Due to the rapid rate of absorption into the body, Health Canada estimates that a lethal dose of pure fentanyl for a typical adult is as little as two milligrams, which is approximately the size of 32 grains of table salt. Physical symptoms of a fentanyl or similar opioid overdose include slurred speech, clammy skin, seizures, severe drowsiness, low blood pressure, pinpoint pupils, slowed heartbeat and respiratory depression (i.e. slowing of breathing).  Death can occur without medical intervention.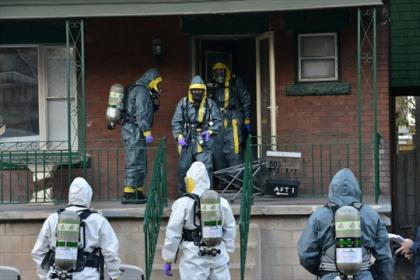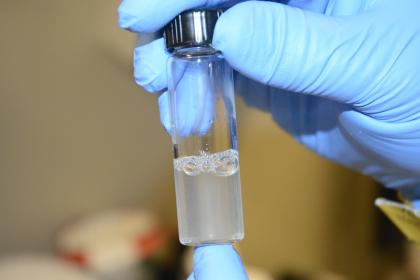 An increase in illicit fentanyl-related seizures and a high rate of overdoses and overdose deaths are occurring in Canada. This trend is of concern to Canadian Law Enforcement and Health Care Professionals. In the last six years, the numbers of fentanyl overdoses and deaths have increased.
The emergence of Fentanyl as an illicit drug has predominantly been seen in BC and Alberta.  Hamilton Police remain committed to public safety.
It is important for the community to know the dangers of taking unknown amounts of drugs that is not prescribed by a physician can be fatal.
The public is encouraged to report any information regarding trafficking or the importation of fentanyl and other drugs by contacting the Hamilton Police Service at (905)-546-4925.
To provide information anonymously call Crime Stoppers at 1-800-222-8477 or submit your anonymous tips online at http://www.crimestoppershamilton.com
Media Inquiries:
D/Sgt. Frank Mossuto
D/Cst Adam Brown
Hamilton Police Service
Vice & Drug Unit
(905) 546-3887
Posted By: Asuf Khokhar Media Relations Officer Hamilton Police Service