News Release - Stabbing investigation at Barton St E and Wentworth St N 
For Immediate release:
Stabbing investigation at Barton Street East and Wentworth Street North
On Thursday February 16, 2017 just shortly after 9:00pm a Hamilton Police officer patrolling the area of Barton Street and Wentworth Street North was approached by a man indicating he had been stabbed during a fight in the area.
Police immediately began investigating and the victim, an 18 year old man from Hamilton was transported to hospital to be treated for what was reported as a stab wound.
The injury was last reported to police as being non life threatening in nature and the man is expected to recover.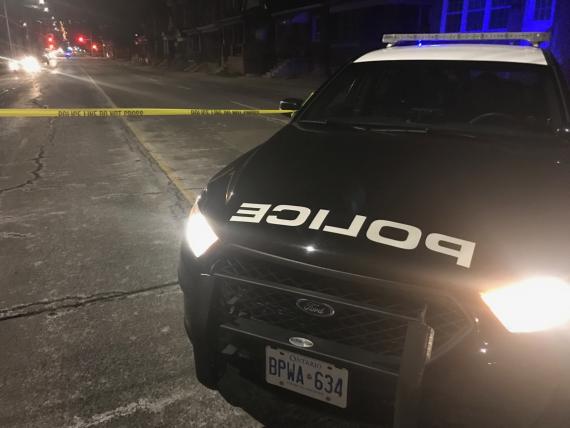 Detectives have learned that a fight took place in the area of Barton Street East and Wentworth Street North between the victim and a 16 year old youth.
During the fight the 16 year old youth pulled out a knife and stabbed the victim.
A friend of the victim, a 22 year old man from Hamilton also engaged in the fight but was not seriously injured.
Police arrested the 16 year old youth at the scene and he is currently being interviewed by Detectives.
The Hamilton Police Canine Unit responded to the area to assist with a search for evidence and located what is believed to be a knife used during the fight.
Police are receiving limited information and cooperation from all involved in this incident. No charges have been laid at this time. 
Police are not seeking any other suspects and have no information that indicates there is any ongoing threats to public safety stemming from this incident in the area.
Anyone who has information about this incident is asked to contact Detective Sheri Marshall at 905-546-3817. If you have information and wish to remain anonymous call Crime Stoppers at 1-800-222-8477 or submit tips and information online at http://crimestoppershamilton.com
UPDATE - 16 year old male youth charged
Detectives continued their investigation into the incident that took place last evening and have now charged the 16 year old male arrested last evening with a number of criminal offences.
CHARGED: 16 year old male youth from Hamilton
CHARGES: Robbery with intent to steal 344C.C*, Disguise with Intent 351(2)C.C*, Aggravated Assault C.C 268*
*Youth Criminal Justice Act - does not authorize police to release the youths name
LOCATION