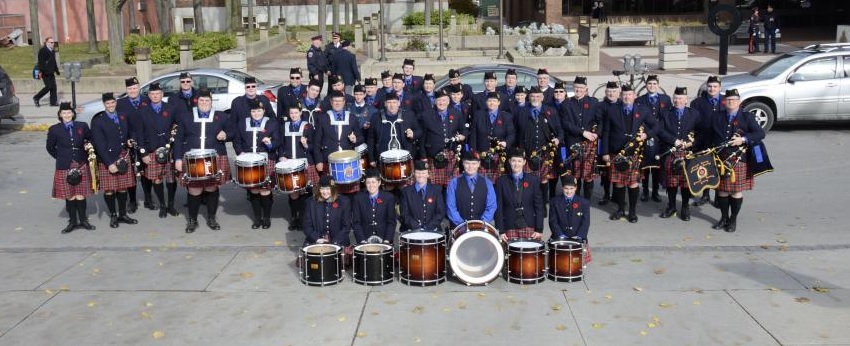 The Hamilton Police Service – Pipes & Drums was formed in 1961 by a dedicated group of Police Officers.   The membership at that time was restricted to members of the Hamilton Police Service only. However since that time, membership has been open to the public, both female and male.
Hamilton is the third oldest Police Pipe Band in Canada.  The first three Pipe Majors were all serving officers:  Gord Macfarlane / Sandy Keith / Don Forgan. During this period the band travelled to various locations such as Scotland, California and Bermuda.
Over time, competition at highland games became a significant item on the bands agenda.  Success in this endeavour soon followed, and during the summer months the Pipes & Drums attended many highland games in Canada at which time they were judged and sometimes awarded with a win.
Presently, our organization has a membership of 65 people, consisting of active players and those attending our youth instruction program.
The Pipes & Drums participate in many events connected with the Hamilton Police Service, such as Badge Ceremonies etc., and in festivals, parades, and civic events throughout the Hamilton area. We have a very active community youth program which provides lessons, both bagpipes and drums, which is open to adults as well.
In July of 2013, the Pipes & Drums travelled to Nova Scotia to participate in competition.  They captured both the Atlantic Canada and the Nova Scotia Pipe Band Championships.
During the past decade the Pipes & Drums have been both Canadian Champions and North American Champions on more than one occasion.

Contact Us