In Memoriam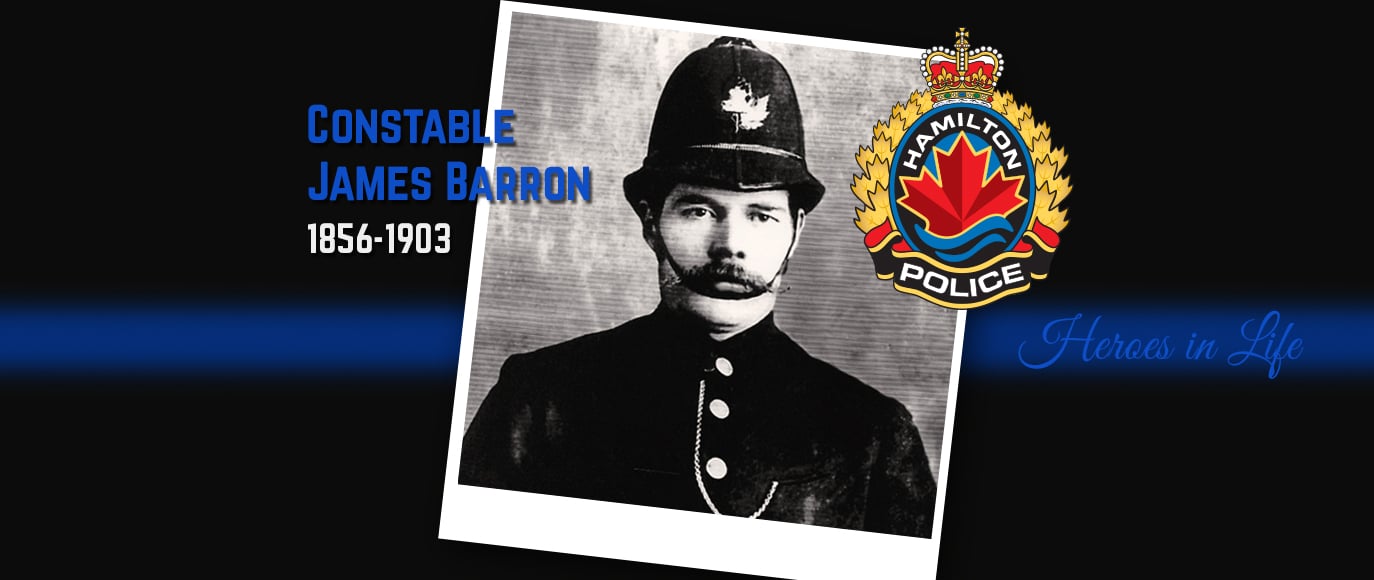 Age: 48 / 5 Children
Constable Barron was responding to a whistle for help from the J. Bidwell Mills residence on Catharine Street North in Hamilton at about 0100 hours in the early morning of October 27, 1903. Mrs. Mills and her son were home alone and called for help upon hearing noises in the backyard. Constable Barron went into the backyard to check and two men, possibly three, attacked him. He was shot at three times, two missing and the third striking him below the heart. Although badly wounded he summoned assistance by blowing his whistle. He died the following day. Although several theories were discussed it was resolved that he had disturbed a break and enter in progress.
Postscript
The murder of Constable Barron was never solved. Hamilton policemen at the turn of the century were unarmed. Most didn't even have a dark lantern to light their way on the night shift. Those were reserved for officers working the beats in the downtown core but were so antiquated most refused to carry them because they smelled and leaked on their uniforms. As a result of his death, the Police Commissioners who for twenty (20) years had held out against arming the force, changed their minds and allowed officers on night shifts to carry firearms.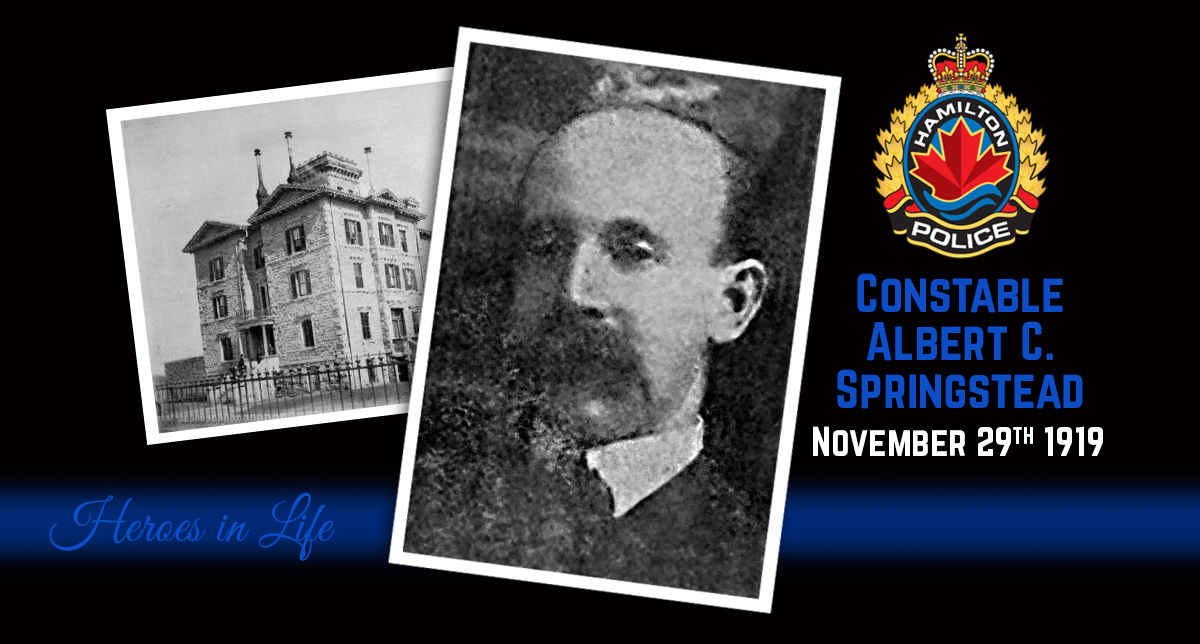 Age: 65 / 4 children
On November 29, 1919 Cst. Springstead was assigned the duty of keeping deathwatch on a condemned murderer in the Wentworth County Jail, in Hamilton. The prisoner was allowed in the corridor outside his cell, for exercise, with Cst. Springstead who was alone. The prisoner jumped Cst. Springstead, choking him from behind until he was unconscious, beating and kicking the defenseless officer, until he was dead.
Cst. Springstead was 65 years of age, married with four children, and had been a police officer with the County for 35 years.

On September 12, 1921, Constable Reg Pryer, a motorcycle officer, was responding to a noise complaint in the vicinity of King Street East and Holton Avenue. As he approached on King Street near Sanford Avenue, a pedestrian began to cross unexpectedly. Pryer blew his horn and swerved to miss the man but a collision was unavoidable. The motorcycle struck the pedestrian and then skidded into the curb, throwing Pryer head first into a telegraph pole. The pedestrian suffered minor injuries. Pryer was critically injured with a fractured skull and died three hours later at the General Hospital. A passing Roman Catholic priest gave him the last rites at the scene.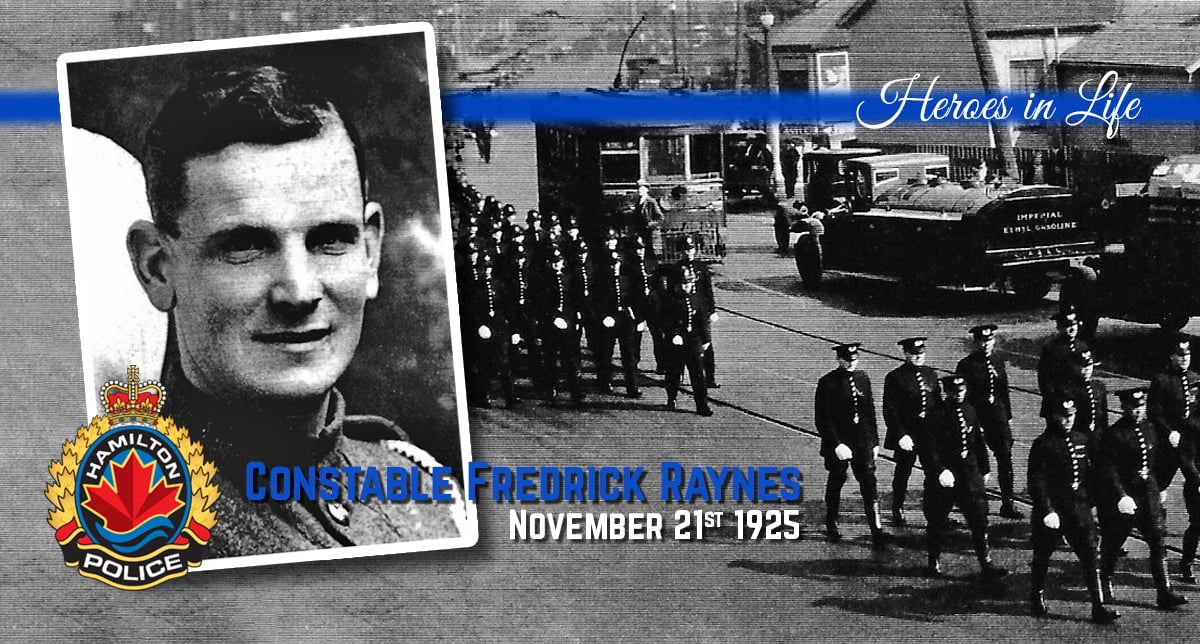 Age: 32
On November 21, 1925, Police Constable Fredrick Raynes was proceeding east on King Street on his police motorcycle. He was responding to notify a family that their son had been arrested in Guelph.  Upon encountering slow traffic on King Street, he attempted to stop his vehicle. His motorcycle's side-car struck a car stopped ahead. He was hurled out of his seat into the path of an oncoming vehicle. Constable Raynes sustained serious head injuries and died later that evening.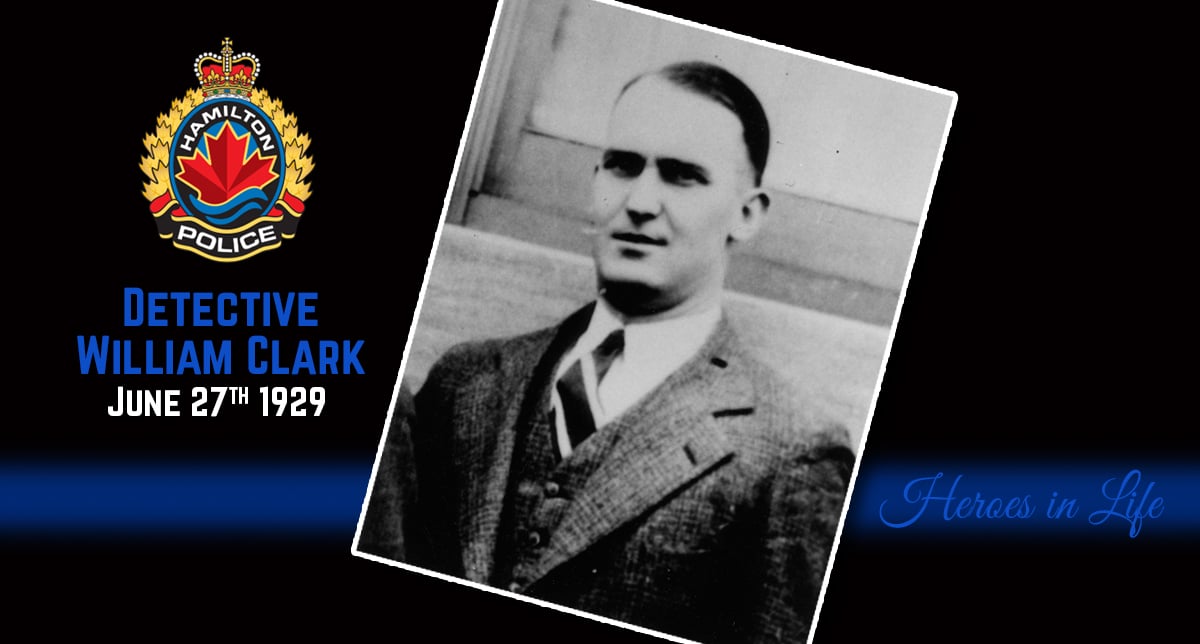 Age: 36 / 2 Children
At 5:00 pm. June 27, Charles R. Long an Aldershot farmer, carried out a daring robbery of the Ontario Savings Branch at 316 Ottawa Street. Armed with a shotgun, Long led police and citizens on a foot chase to 242 Rosslyn Avenue North where he darted into the basement of a house. Following closely behind was Constable Nesbitt and two citizens, Thomas Halcrow and Jonny Monk. Unable to see, Constable Nesbitt struck a match and found himself face to face with Long. A struggle ensued and Nesbitt was forced to retreat from the house after a stunning blow on the side of the head with the butt of the shotgun.  Several other officers including Acting Detective Clark arrived at the scene and surrounded the house. Tear gas and bottles of asphyxiating chemicals obtained from a nearby funeral home, were hurled into the basement. When Long failed to come out Detectives Bleakley and Clark donned gas masks and went in after him. Gunfire immediately erupted and ended with the deaths of Detective Clark and Charles Long.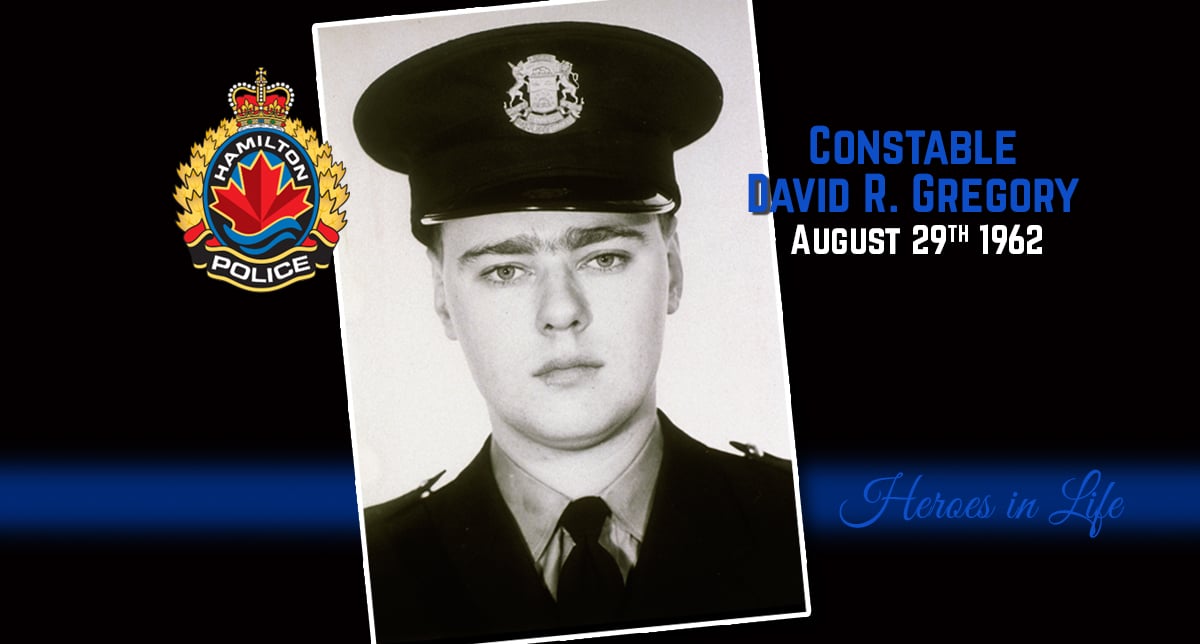 Age: 26 / 2 Children
Constable Gregory was investigating a citizen' s complaint of a suspect on the street who was carrying a shotgun wrapped in newspaper. George Brewster, a former policeman, was driving on James Street when he caught sight of Bruce Griffett. He picked up Constable Gregory and drove him to Hughson and Augusta Streets where they waited. When Griffett came down Hughson Street, Gregory approached him with his gun holstered. Griffett turned and shot and killed Gregory with a 16 gauge shotgun. Brewster, removed the officer's gun from its holster, shot, and wounded the suspect. The suspect then took the shotgun he was carrying and shot and killed himself.
Postscript
In 1959 Bruce Griffett, the suspect, was diagnosed as insane. He was a potentially dangerous schizophrenic. Only his mother's reluctance stopped him from being institutionalized at that time. Twenty four hours prior to his death he had bludgeoned to death his mother and a neighbour who came to her assistance.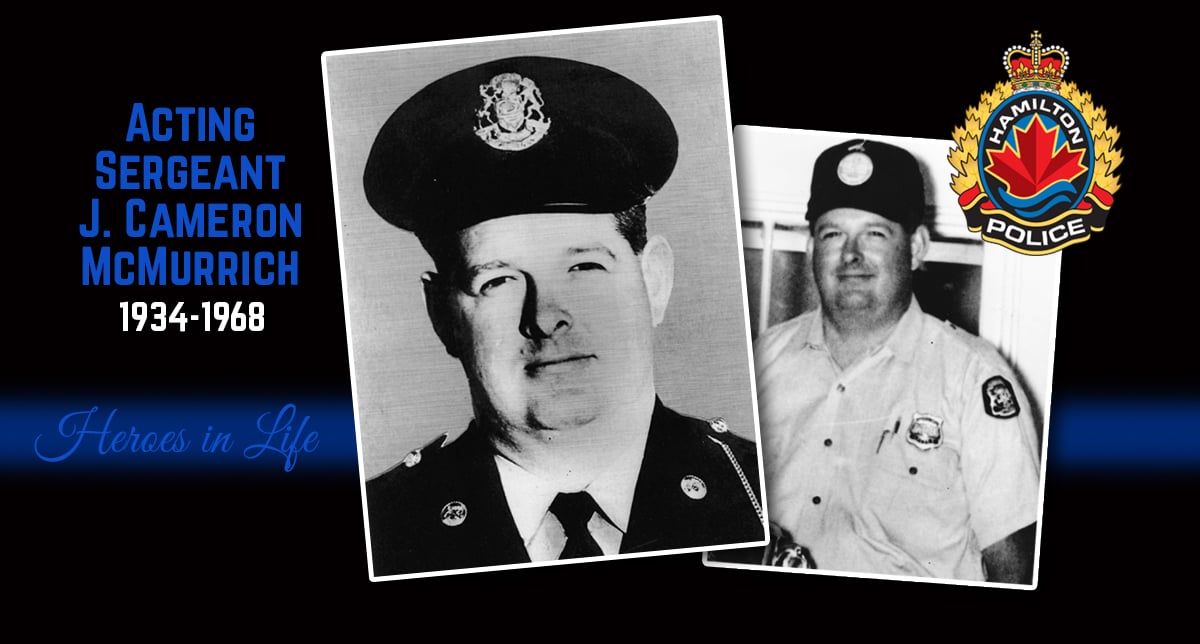 Serving with the Hamilton Police - Sunday December 22, 1968
Age: 34 / 4 Children
Shortly before four in the morning, December 22, 1968, Acting Sergeant McMurrich was working on a surveillance team with other officers.  They were watching attendees in a party at a home on East 27th Street, on Hamilton's Mountain.  While outside, 15 to 20 persons left the residence and approached the officers in a threatening manner. The officer fired several warning shots but was overpowered, beaten and shot to death with his own gun. 
Postscript
Five (5) persons were charged with murder; 4 were convicted of manslaughter: James Major - 14 years; Jon McClure - 14 years; Murray Feist - 8 years; Douglas Maracle - 7 years. One (1) convicted of assaulting a peace officer: John McEwan was sentenced to 6 months.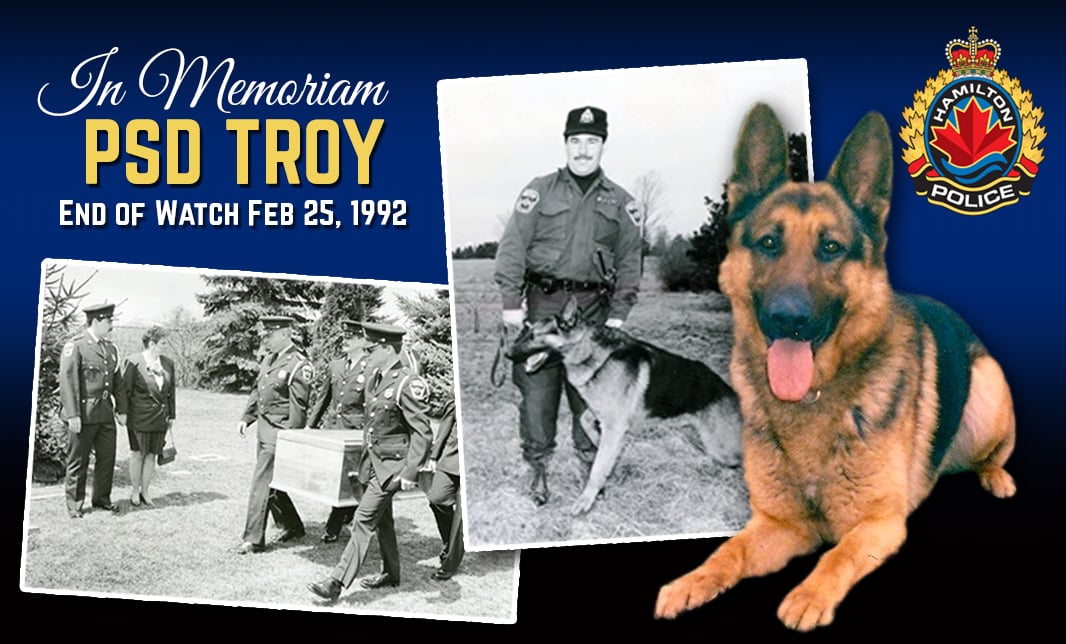 On February 25, 1992, Police Constable Paul Johnston was working with his partner, Police Service Dog (PSD) Troy.  They responded with a number of other officers to a domestic call on Manning Ave.  A woman and her children were hiding in their house while the suspect was outside in the yard armed with a gun.  Initially the officers didn't see the man until he raised the weapon and pointed it at an officer.
P.C. Johnston ordered the suspect to drop the weapon.  When he didn't comply, PSD Troy was given a command to apprehend the suspect.  PSD Troy engaged the suspect and the suspect fired the gun, striking Troy.  This act allowed the officers to take cover but sadly, Troy succumbed to his injuries.  After negotiating with the suspect for a period of time, he eventually surrendered and was arrested.  The suspect was sentenced to one year in prison.