Deputy Chief Ken Weatherill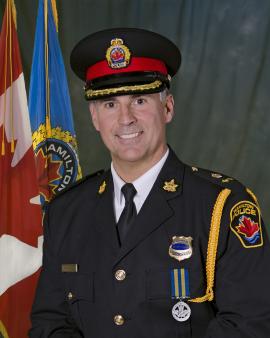 Deputy Chief Weatherill is a 29-year member of the Hamilton Police Service and was promoted to Deputy Chief in 2014.
Deputy Chief Weatherill is responsible for Field Support and therefore directs the operations of finance and administration, corporate services, support services, human resources and professional development within the Hamilton Police Service.
Ken's career developed through the ranks of the Hamilton Police Service having served in Uniform Patrol, Traffic, Emergency Response Unit and Investigative Services.  He has been a Detective, Detective Sergeant, Emergency Response Sergeant, Quality Assurance Inspector, Niche Project Manager, Support Services Inspector and a divisional commander. 
Ken is a McMaster University graduate, he has a Bachelor of Arts Degree in Geography.  He has continued his education and completed Professional Development Courses in Effective Supervision, Management Fundamentals, Conflict Resolution, Human Resource Management, Project Management and received a Graduate Certificate of Achievement in Criminal Justice Education.  He has attended Police Leadership Program at Rotman in Toronto and is a graduate from the FBI National Academy at Quantico, Virginia.
Ken Weatherill is active in the community with the police Around the Bay team; It's a Kids Christmas; Hamilton Police Honour Guard and a founding member of the Service's Aboriginal Committee. Outside of policing, Ken is involved in youth sports and the McMaster University Athletic Alumni Association.
"Ken Weatherill is a committed/proven police leader with extensive experience in all areas of policing and a focus on technology, effective use of resources and the complex issues facing our community", said Hamilton Police Services Board Chair Lloyd Ferguson. 
Contact: