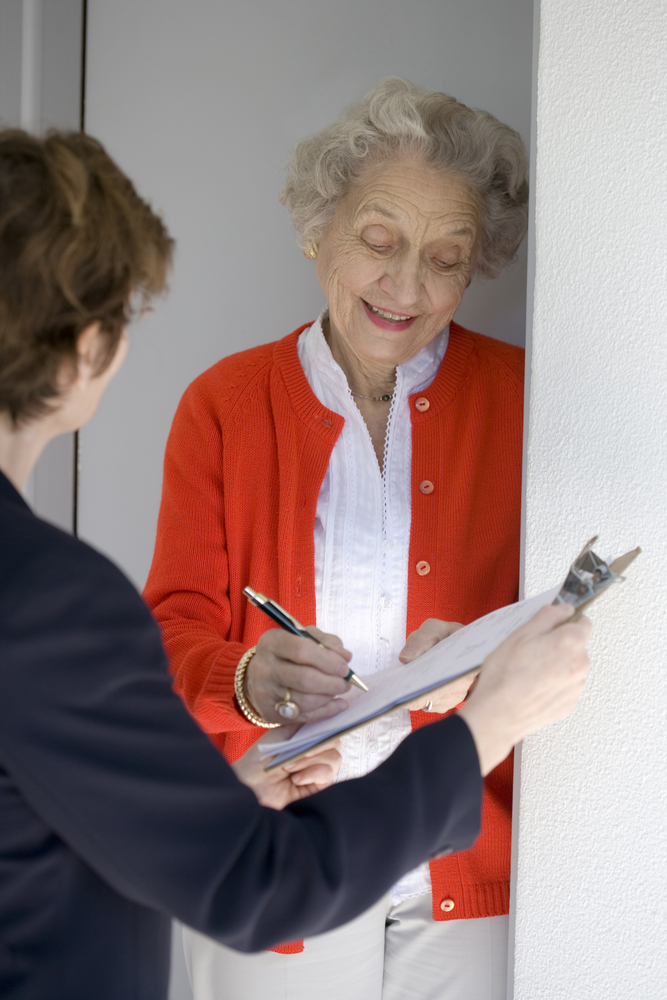 Direct marketing fraud usually occurs when the con artist appears at your door attempts to either sell you something, or offers to do some type of home renovation. Some of the possible direct marketing scams are:
1. Door to Door Sales - Products
The first role of any salesperson is to get the potential customer interested in seeing a product demonstrated in a person's home. The "prize" offered is in fact a "key" that provides access to your home where a more intense sales pitch can be practised on you in order to effect a sale of the product. Unscrupulous home salespeople have used many questionable sales tactics in customer's homes including intimidation, threats, false representations or just plain lying. In fact, there is a saying common among such individuals called "outsitting the customer." The belief is, that once inside your home, the customer will need to buy the product just to get that salesperson out of the house.
Typical products offered for these types of sales are: Vacuum cleaners, Water or air purification systems, Home alarms, or Meat freezer orders.
Take extra Care …
Don't feel pressured and never let strangers into your home.
Are they licensed to sell products door to door?
Is the business located in your community?
Are there any complaints registered at the Better Business Bureau?
Take time to compare quality, prices and warranties.
2. Door to Door Sales - Personal & Home Services
There are many services necessary to maintain the comfort and security we feel in and about our homes. As we age, we may find ourselves in need of hiring people to assist us in this maintenance. Extra caution is needed here in obtaining services from those who may have access to our homes and our property.
Some of these services include: Home / Property maintenance such as snow removal, grass cutting or window washing, Grocery shopping, or Personal Assistance Services.
Take extra Care …
Do your homework. Make sure you get a contract. Does the contract stipulate all that it should - have friends or relatives assist you in this. Check out the identification, references and agency referrals to make sure you have taken the proper steps to keep you and your family safe and secure.
3. Door to Door Sales - Unscrupulous Providers
Unscrupulous individuals claim to represent energy providers and yet are only representing themselves. Consumers need to educate themselves on the two ways to buy power and, as always, be very careful when signing a contract.
Option One: You can do nothing and your current supplier, likely your local utility company will continue to provide you with power at market rates.
Option Two: You can purchase power from one of several retailers licensed by the Ontario Energy Board. Some retailers may ask you to sign one, three, or five year fixed price contracts.
Take extra Care …
When retailers knock on your door, here are some questions to ask:
Do you have a licence from the Ontario Energy Board?
How long does the contract last and is there a penalty for cancelling? Can the retailer cancel the contract? What charges are included in the rate?
What is the price per kilowatt – hour and will it vary?
Are there any additional charges?
What happens if I move?
4. Home Renovation Scams
Beware of contractors who knock on your door to tell you that they just happen to be in the area doing some work and can give you a special price. The contractor may say that he has some left over material from another job and can do your repair work at a considerable saving or that the men are just around the corner – I can save a set up charge for you.
Typical types of Home Renovation Scams are: mortar and brickwork, driveway paving and sealing and roof repairs.
Take extra Care …
Don't be pressured. No matter what you are told at the door, always get a written estimate and then get 3 other independent quotes as well.
Get a fully itemized contract.
Never give a cash deposit or pay for work until it is done.
Are they licensed to work in your community?
Does the job require a building permit?
Check out all references. Are there any complaints registered with the BBB?
Check out the company with:

Ministry of Consumer and Government Services at: 1- 800–889–9768