The Highway Traffic Act states that a vehicle is "anything drawn, propelled or driven by any type of power including muscular power." A bicycle is a vehicle.
Therefore, cyclists have the same rights and obligations as any other vehicle driver:
Stop at all stop signs and red lights
Ride on the right side of the road
Signal lane changes, stops and turns
Ride on the highway, not the sidewalks
Use lights when riding at night
Have a bell or horn attached to your bicycle
Where a helmet (if under 18 years)
Share the road
The Hamilton Police Service urges you to follow these safety precautions to ensure that you have a safe and enjoyable ride.
Helmet Safety
It is absolutely crucial to wear a helmet. A serious head injury may cause loss of cognitive or mental capacity.
All cyclists under the age of eighteen years are required by law to wear a helmet while riding or operating a bicycle.
When putting on a helmet, level it over your forehead and adjust the chin strap to fit snugly and comfortably. It should protect the forehead without slipping.
Helmets should comply with CSA safety standards. The following standards are acceptable:  CPSC, ASTM, ANSI, Snell, BS and the AS although some regulations may be out of date.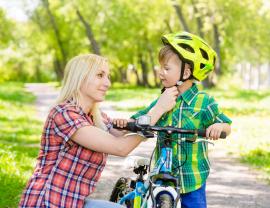 Road Safety
As cyclists share the road with motorists, knowledge of traffic rules and regulations is essential to personal safety and well-being.
Be sure to obey traffic signs and lights
Use hand signals to communicate your intentions to motorists
Scan the road behind you. Learn to look back over your shoulder without losing balance
Make eye contact with motorists
Look out for road hazards
Dress appropriately for the weather and time of day
Use lights at night
Cyclemania
Sponsored by the Hamilton Safe Communities Coalition and operated by Hamilton Police Service, Cyclemania is a mobile program that visits schools, daycares, camps and community events.
The Cyclemania program is focused on children aged 7 - 9, Grades 2,3, and 4.  Each session combines valuable safety information with hands-on cycling practice.
The first part of the program, the theory, includes topics such as property clothing, proper wearing of a helmet, and how to ride on the road safely.  In the second part is the practical portion and it is here that the children are given a chance to practice their new skills on a bicycle course with an instructor by their side.
Cylemania provides bikes and helmets for children who are unable to bring their own but encourages those who have their own equipment to bring it.  Benefits to the children include both confidence and knowledge:  the confidence to ride a bike properly coupled with knowledge of where and how to ride. it.
Cyclemania visits elementary schools in May and June, and camps, playlots and day care centres throughout July and August.
For more details about Cylemania or how to book the program, call 905-546-4900 during Cyclemania's off season, August to April. 
The program operates May to August and Cyclemania instructors can be reached during these months by calling 905-546-4859, or email: cyclemania@hamiltonpolice.on.ca
Operation Bike Guard
The Hamilton Police Service wishes all cyclists a safe and enjoyable experience on our roads and recreational areas. A bicycle represents a substantial investment and is a popular item of theft. Thousands of lost and stolen bicycles are recovered by the police every year. Most bicycle owners never see their bikes again simply because the owner cannot be located. OPERATION BIKE GUARD was created to assist the police in identifying the owner of found or stolen bicycles and to provide educational tips to the public regarding bicycle theft prevention and safety.
Bicycle owners complete an Operation Bike Guard Identification form and include a photograph of their bicycle. THE OWNER RETAINS THIS INFORMATION IN THE EVENT THEIR BICYCLE IS LOST OR STOLEN. If the bicycle is lost or stolen, the owner brings the completed Bicycle Identification form or envelope into the Hamilton Police Service and file a report.
For more information on Operation Bike Guard, please click on this form: Operation Bike Guard Form(431 KB)
Related Websites
Related Content
Helmet Fitting (328 KB)